This slideshow requires JavaScript.
∑PROS/ Bandicam free screen recorder is really worth your time to download and install it on your computer. It is a FREE- POWERFUL SCREEN RECORDER for game play and other screencast purposes.
∑CONS/ Like most of other free screen recorders, Bandicam is only suitable for simple recording purposes that don't require editing functions. It is shortage of necessary editing features of a professional screencast software where you can get in its pro version only.
∑OUR CONCLUSION: This is entirely a good free screen recorder for game play, screencast, screen shots regardless of its' Cons we mentioned above. Purchase Bandicam Pro version at $39, you can remove the watermark and use it forever.
---
Our review
As we mentioned about this tool in our previous post which we stated that "Bandicam has been famous all over the world as a favorite screen recorder for game players and screencast creators. Although it does not include powerful editing tools like ActivePresenter but its' recording capabilities is really fantastic." Truly it is! In free version, you only have 10 minutes recording time. In our opinion, "10 minutes" is a very long time for a shot footage in the procedure of creating screencast video. Normally, a video on YouTube will last about 5-10 minutes only. When purchasing pro version, the time limitation will be removed. See the comparison down here.
Updated news: The best Christmas Software deals are available now!
Interface
As you see on the screenshot, Bandicam provide 3 recording modes for user to use i.e Screen recorder, Game recording or device recording. Each option is optimized for specific purpose which you can read from their website as below:
Game Recording: Bandicam makes it possible to record various 2D/3D games with 4K UHD Video and capture up to 144 FPS Video.
Screen Recording Bandicam can record everything on your computer screen and save it as video files(AVI, MP4) or image files.
Device Recording: Bandicam allows you to record external video devices such as a webcam, Xbox/PlayStation, smartphone, IPTV, etc
Well, I have tried all these mode myself and I am sure that these options are easy-to-use for every one. Here are some of my thought about this software:
Record video full screen or customized resolution at max FPS 144 and save file to AVI, MP4.

Record audios from speaker and microphone in PCM or MPEG-1 L2 codec.
Record Webcam and HDMI capture device, add webcam overlay.
Customize hot keys, show/hide hotkey and show FPS overlay while recording.
Record mouse cursor, add mouse click effects.
Add a logo to recorded video with some position set up.
Take screen shot during the recording with some popular formats: BMP, BNG, JPG, JPG- high quality.
Video and image quality is good in comparison with some other free tools I've tried. There are some users complained about some noticeable lags while starting and stopping recordings, We don't think so! During our test, Bandicam give good result both in normal screen recordings or game play (AOE, Half life, Star Craft..) recording that we tested.
Things I don't like in Bandicam
It is impossible to remove the watermark while we are using free version.
Not able to edit video after recorded. You need another video editor for this work.
Want to get rid of Watermark? Check out these no watermark screen recorders.
Technical support and tutorial resources
To be honest, I have not contacted Bandicam's team for technical support yet. Because I don't have any issue to complain about this software. Anyhow, it doesn't mean that you will not meet any problem. But, you can be sure that they have an online support community, an official YouTube Channel and dozen of how-to tutorial where you can access easily.
Pricing Overview
I am pretty sure that the said purchase price at $39 for 1 PC and $59 for 2 PC is a good deal in comparison with some other professional screen recorders you can find on the market right now. That's not to mentioned few good free screen recorder like ActivePresenter or OBS where we've reviewed recently.
On their website, there are also options for purchasing 5-PC, 10-PC or 20-PC with better price. Anyway, I suggest you try its free version prior to making any purchasing decision. You can download Bandicam free version right here:
Here are some examples of recording video by Bandicam
Bottom Line
If you are a keen gamer, Bandicam is a perfect tool for you to record your game play without lags. Try it and share with us your opinion.
Thanks very much for being here. I hope you try it and let me know if this software is useful for you or not. It is really important that you let us know how you feel about the software and the post to make us better.
Good luck!
---
Publisher's description
Bandicam is the best recording software for screen, game and webcam capture!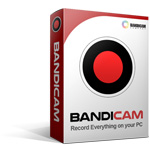 Bandicam is a lightweight screen recorder for windows that can capture anything on your PC screen as high-quality video. Also, it makes it possible to record a certain area on a PC screen, or capture a game that uses the DirectX/OpenGL/Vulkan graphic technologies.
Bandicam will help you carry out a game capture with high compression ratio, while keeping the video quality closer to the original work, and provides performance far superior to other recording softwares that provide similar functions.
Main features of Bandicam
Editor's notice: This post is updated with publisher's description since October 31th – Happy Halloween.
Good luck!